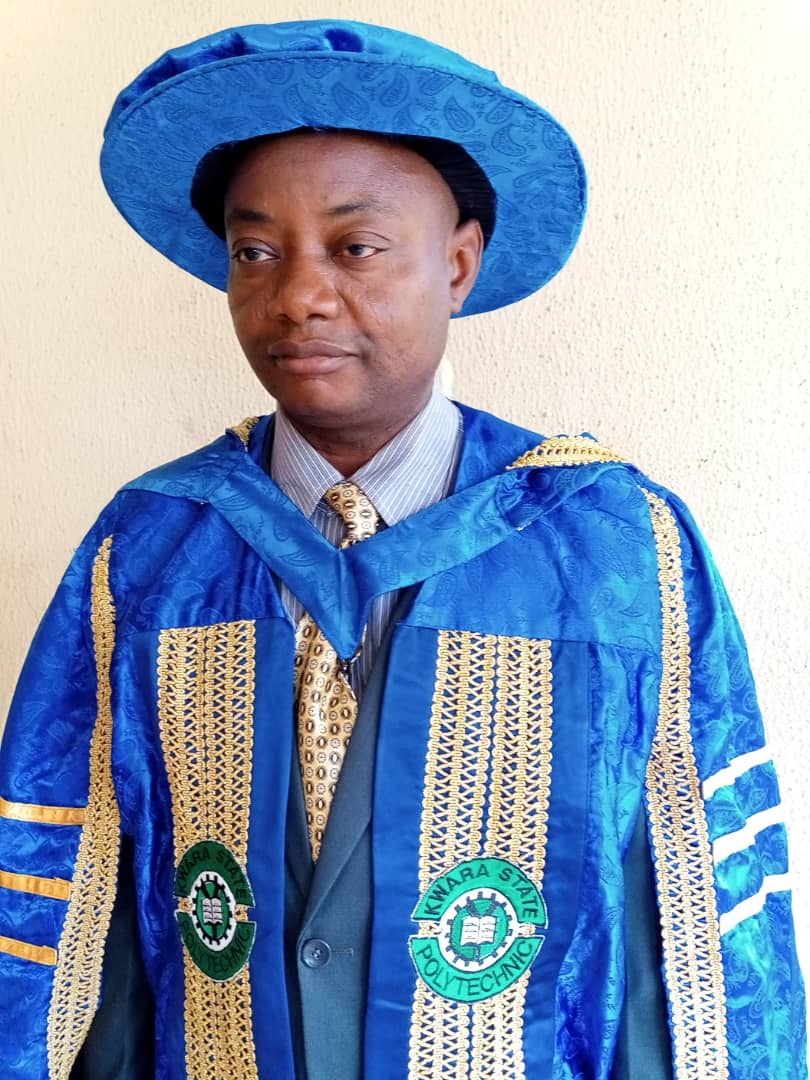 ENGR. ABDUL, JIMOH MOHAMMED'S PROFILE
Born on February 11th, 1966 in Onitoloto compound, Ipata, Ilorin East Local Government Area of Kwara State, Abdul Jimoh Mohammed attended ECWA Secondary School Igbaja and Ansaru-I-Islam Secondary School, Ilorin, between 1978 and 1984.
His Tertiary Education took him to University of Ilorin between 1985 and 1990 for his first degree in Mechanical Engineering. In 1998, he obtained Masters Degree in Mechanical Engineering from the "Better by far University" (Unilorin) and between May and September 1994, he obtained Post Graduate Diploma in Computer Science from Federal University of Technology in Owerri.
His quest for more knowledge took him to University of the Witwatersrand, Johannesburg, South Africa for his Doctor of Philosophy Degree in 2015.
His working experience started at the Institute of Technology, Kwara State Polytechnic, Ilorin in July 1992 as an Assistant Lecturer and served the Polytechnic in various capacities such as Departmental Admission Officer from June 1993 to June 1995, Departmental Examination Officer (July 1995 to July 1997) and Manager, Management Information System (MIS), Institute of Technology (May 1997 to October 1999).
In 1999, Abdul joined the service of University of Ilorin as an Assistant Lecturer in the Department of Mechanical Engineering, Faculty of Engineering and Technology.
His quest to earn his daily living also took him to the Federal Polytechnic, Offa, in year 2000 as Lecturer I and rose through the ranks to become the Deputy Rector (Academics) in April, 2017, the position he held until his present appointment.
Membership of Professional Body
An accomplished academic and a Professional Engineer, Dr. Abdul is a member of several professional bodies, such as the Nigerian Society of Engineers,(NSE), the Council for the Regulation of Engineering in Nigeria (COREN) and the Institute of Data Processing Management of Nigeria.
Commendation/Appreciation 
Dr. Abdul was issued letter of commendation for the award of Patent Right for the production of Hydrogen Storage Tank, letter of appreciation for his efforts in getting Kwara State Polytechnic Institute of Technology Computer Units ready for operation and letter of appreciation for his contributions towards developing the Federal Polytechnic Offa permanent site.
Abdul has authored several articles such as Corrosion Inhibition of AISI 1007 Steel in Hydrochloric Acid using Cucucmis Sativus (Cucumber) Extracts as Green Inhibitor, Product Quality Assessment and Capacity Utilization Models of selected Waterworks in South-Western Nigeria, Suitability of Ado-Ekiti (Nigeria) Natural Moulding Sand for use as Foundary Sands in production of Aluminium Alloy cast etc.  
He has attended several conferences and presented papers both national and international.
Community Service   
Dr Abdul has served as the Chairman, Committee on reconnaissance survey of various Streams and Rivers in Offa Local Government and President, Zango Ward Youth Development Association, Ilorin.
Engr. Abdul Jimoh Mohammmed is the current Rector,  Kwara State Polytechnic, Ilorin. He is happily married with children.